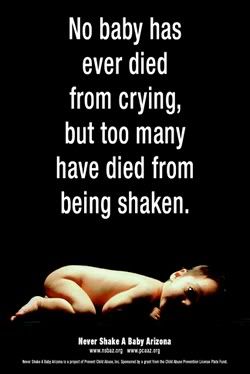 Today is a very very sad day. Too many babies are being shaken, some die, many have profound disabilities and some come out with minor disabilities. Why is today extra sad? I just learned that my friend, whom I met through a Shaken Baby Syndrome Support Group, lost her son today. When he was a newborn he was shaken so severely that he was left severely disabled. Today he was a 7th grader. He never learned to walk, talk, and was blind. His basic life was stolen from him as a baby and today, he is gone for good.
This is a strong reminder.. NEVER under any circumstance SHAKE A BABY!!!! Just walk away.
I am in a VERY bad mood right now. I am pissed off at another injustice in this world. He didn't deserve this, his mother didn't deserve this and NO BABY deserves this. His death hits very close to home, we never physically met but over the last 4 years I was able to call his mother friend and I thought of TJ quite often. What should be a joyous time in their lives is now tragedy.
A bloody travesty.