Christmas is officially here, in less than a week, many of us will be waking up, grabbing our mugs of cocoa, coffee, whatever, opening Christmas presents, laughing, joking, and eating. For many of us, we go about our days like normal and just enjoy the time with family. Unfortunately, there are many who don't even get to eat a Christmas meal, let alone exchange Christmas presents. I am beyond grateful to be able to share this fantastic prize pack provided by Hamburger Helper through Myblogspark.
According to Feeding America, approximately 5.7 million different people receive emergency food assistance from the organization in any given week.
To raise awareness about the national issue of hunger, Hamburger Helper® is partnering with GRAMMY® Award-winning singer, songwriter and actor Tim McGraw to help Feeding America deliver millions of meals to local food banks through the Show Your Helping HandTM campaign. McGraw will lend his voice to the campaign through a Public Service Announcement which will be distributed nationwide. Click here to view the PSA.
Support the campaign by submitting codes from specially marked boxes of Hamburger Helper at www.showyourhelpinghand.com or by logging on to make a donation. Hamburger Helper has already donated more than half a million dollars and will contribute up to an additional $100,000 to Feeding America through this program. Don´t think one code will make a difference? The 17 cents Hamburger Helper donates per code is enough for Feeding America to deliver one meal to a local food bank.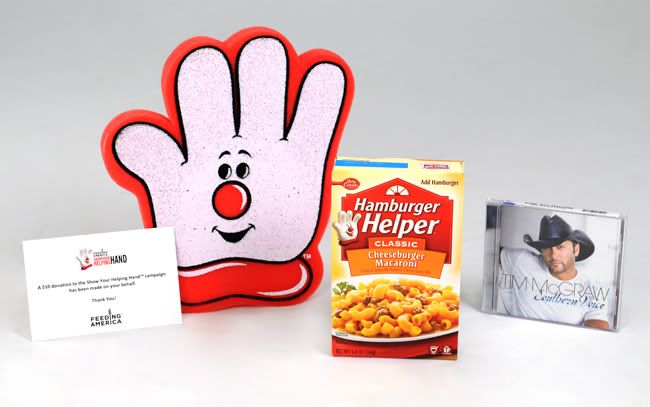 How would you love a chance to win this prize pack provided by Hamburger Helper through Myblogspark?
You can! The prize pack includes a box of Hamburger Helper skillet meals, a Hamburger Helper foam "Helping Hand" and a copy of Tim McGraw´s "Southern Voice" CD. In addition, Hamburger Helper will make a $10 donation to the Show Your Helping HandTM campaign on your behalf. I have to tell you I feel really really good about this campaign. When I received my prize pack, I felt my heart expand a bit at the postcard with the contribution made on my behalf. I have been there. I have needed food banks and help. I think most of us at some point have been there. When Emma is older, I hope for us to be able to volunteer together to help those who need our help. The food banks are overwhelmed, even more so with the economy as it is and more and more people who would never think they would need the help are standing in the lines for food. Nobody should ever go hungry.
Also, you can also have a chance to win an autographed copy of Tim McGraw´s "Southern Voice" CD by visiting www.showyourhelpinghand.com.
Alright! On to the giveaway!
Pretty straight forward, what charity touches your heart the most? Please answer it in a post with your email address!
If you want extra chances, go ahead and tweet! (of course, post the link here and make it @historyslover with hash tag "#myblogspark")
Another entry? Fan my Facebook page (link is on the right) and leave me a comment here!
The rules?
Must be in the US & Canada. No PO Boxes.
Easy Peasy!
Giveaway ends on... hmmmm.... how about the day after Christmas? Tis the season, so let's end this on December 26th!
Thank you again and please, be sure to at least share the link above to submit codes and help feed America! Thank you and Good Luck!!!!!!