Mmmmmmm I love Chili's! Do you? I have to admit my favorite things to eat there are the Southwestern Eggrolls. Black beans, corn, chicken all wrapped up into an eggroll with a ranch-type dipping sauce! Yum yum and more yum! Love it. Emma, of course, just wants a cheeseburger. No pickles. Only ketchup. I like casual dining places to go with her, it makes life easier with it being more relaxed and the food is pretty kid friendly. Only downside, they can be awfully loud which can intensify her sensory overload and due to that, we tend to go when it's slowest (i.e. 2-5 pm). Happier times for all! LOL.
So, we were given a chance to try out the Triple Dipper. Have you heard? Well, the Triple Dipper allows you to pick three appetizers (from the triple dipper section of the menu: Which per chilis.com is: Combine your three favorite appetizers! Served with dipping sauces • NEW! Loaded Potato Skins • NEW! Memphis BBQ Skins • NEW! Honey-Chipotle Shrimp • Big Mouth® Bites • Boneless Buffalo Wings • Southwestern Eggrolls • Chicken Crispers® • Wings Over Buffalo® • Fried Cheese • Hot Spinach & Artichoke Dip). It's great because I almost ALWAYS want to try them all, then I overeat and then I can't eat my meal. It's also a great way to try something you haven't tried without having to throw away $9 on one item. Also great for picky eaters.
Well, us girls (Emma and I) chose the Southwestern Eggrolls, the Big Mouth® Bites and the Hot Spinach & Artichoke Dip. I loved the eggrolls and the spinach artichoke dip. I didn't care for the mini burgers (the big mouth bites) because the bread was heavy and stuck to my throat. Emma like them! She didn't company as she dipped in to everything!
Oh... take a peak, here's the grubbage (taken from my Android)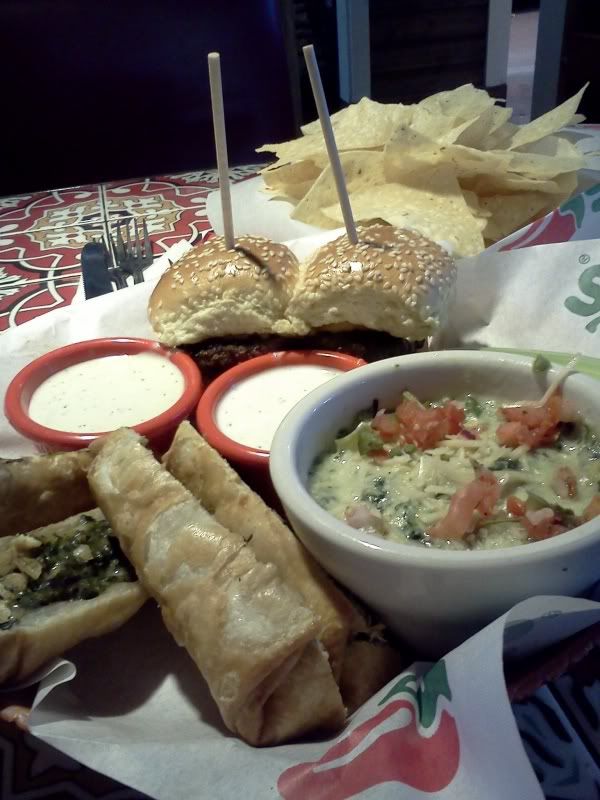 Pretty tasty, I must admit! With a HUGE thank you to Chilis and 2wired2tired.com for hooking us up! Chili's provided a giftcard to be able to try out the Triple Dipper! Yummy!
Be sure to check out The Shout Out to Eat Out Promo by clicking the image, enter for a chance to win a $20 giftcard OR a $333 grand prize!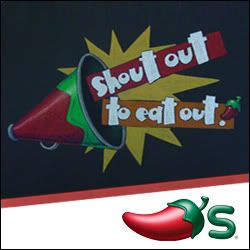 How would YOU like a chance to win a $20 Chili's Gift Card?
I knew you would! Thanks to Chili's you CAN!
Mandatory Entry, Enter my Blog name here in this form ( Frugal, Green and Book Nerding Mom of a Shaken Baby Survivor)
Other ways to enter:
1. Tell me your 3 favorite foods you would like to have all on 1 plate.
2. "Like" Chili's on
Facebook
3. Follow @Chilis & @Shoutout2eatout on Twitter
4. Create your terrific trio located on
Shoutouttoeatout.com
and comment with the URL link
5. Opt-In to Chili's email club
here
(You'll receive a free appetizer certificate too!)
6. Tweet out this
"At @Chilis Good Things Come In 3's! Check out @2Wired2Tired http://bit.ly/linkyrave for 200 chances to win in the #tripledipper linky rave!"
7. Write a post on your blog about your 3 favorite foods you would like to have all on 1 plate and mention the Shoutout2eatout.com promotion. Then comment with the URL link.
Good luck! Contest ends 6/12/11
disclaimer: Chili's provided the giftcard to try the Triple Dipper, the fact does not change my ability to remain unbiased