Thanks so much for having me and at such an auspicious time of year for us paranormal authors. It's kind of guaranteed that we're fans of Halloween. I am—especially since I made my own medieval costume a few years ago, and a matching one for my husband: Henry VIII and Anne Boleyn. Depending on my mood that year, my Anne may or may not have a thin line of (fake) blood going across her neck.
But in writing my Mer series, I never tackled the idea of Halloween. I use mythology and legend, and pop culture references, twisting them to fit my story and build the world, but I never really touch on holidays.
I figured now was as good a time as any. The following is a totally original, for-this-blog-posting Halloween Ball scene from the point of view of Doria and Andrea, sisters of the Challenger to the Throne (and, sadly for them, not especially bright ones) in the second book in my Mer series, Wild Blue Under, out November 1.
Still living at home with their parents in Atlantis which is located under the island of Bermuda, (yes, under; they are, after all, Mers), they wouldn't mind finding a way to catch the eye of Rod Tritone, heir to the Mer throne, and move into his palace. In this scene, reminiscent of the pre-ball preparations by Cinderella's ugly stepsisters, Andrea and Doria try their best to catch the prince's attention--and keep each other from doing so at the same time…
"So what are you going to be for the Halloween ball this year, Doria?" Andrea fingered the white feather boa she'd bought at the Salvager's Market that morning as part of her costume for the annual royal costume ball, but, Hades! Dozens of feathers floated away with each stroke. Stupid Salvager had ripped her off. Now what was she going to do? The costume had to be perfect.
"I'm not telling you, Andrea." Doria shut the door of her closet with a quick whoosh of water--which had the helpful effect of drifting her sequined crop pants out of the closet.
"Pink? You're wearing pink?" Andrea didn't bother hiding her laughter. Nor her disbelief. "You look awful in pink."
Doria flicked her hair over her shoulder--where it didn't stay, thanks to the current that wended through downtown Atlantis. "I do not. Pink is one of my best colors."
Yeah, if she wanted to look like chum and attract all the barracuda…
Andrea kept her trap shut. Good. Let Doria look like a clownfish. That would pave the way for her once The Heir saw her in her diaphanous white princess gown--just what Rod would make her if he chose her to marry.
But she had to find out who Doria was going as. After all, they couldn't go as the same person, and it was possible the famous Human actress she was going as had done a movie dressed as a matador.
"Were those pants I saw? How do you plan to pull that off, Dor, since the ball is under water, where, unless you're a second son, you can't have legs?"
"None of your business, Andi. So what are you going as?" Doria picked a sequin off her orange tail.
Pink against that color was as cringe-worthy as the nickname Doria insisted on giving her.
"You don't know who you're going as, do you?" Andrea was determined to find out. Nothing was going to get in the way of Rod asking her to dance. She'd chosen her costume carefully. Everyone knew there was only one Human more famous than Jacques Cousteau in Atlantis and dressed as her, The Heir was sure to notice her.
"You're going as a movie star, aren't you?"
Doria turned a shade of green that would really make the pink and orange look nasty. "We don't have movies."
Dammit. She was right. "Oh, right. You're going to tread water there and tell me you never floated on the surface and watched the movies Humans see on those cruise ships."
"I didn't--" Doria spun around. And spun and spun…
Andrea would have thought, after thirty selinos, her sister would get the swirling-water phenomenon.
"How'd you figure it out?" Doria asked in that timid voice that she thought men loved, but, really, made them squirm like a worm on a hook--and in their world, that was a very bad thing.
Again, not something she would share with her sister. She needed every advantage she could get tonight. "How'd I figure what out?"
"My costume."
Okay, Andrea had to play smart here. Her brother would say that was tough to do, but she wasn't as dumb as he thought. So there.
Doria on the other fin…
Movie star, cruise ship, pink matador pants--
"You're going as Penelope Cruz."
Doria tossed her head back. "So what if I am?"
"Nothing." Andrea did a somersault over to her vanity table, biting her lip to keep the smile off her face.
Ever since Penelope had dumped that other Human named Cruise, she'd fallen out of favor in Atlantis. The woman Andrea had chosen to go as, however, would never go out of favor.
She couldn't. Her very name demanded she live in Atlantians' collective memory forever.
Merman.
Ethel Merman.
© Judi Fennell, 2009
Okay, I had a blast revisiting these two "water-heads," as their brother Drake had called them, and I had even more of a blast figuring out who they would dress as for the ball.
So who (what) are you going to be for Halloween?
And please stop by my website,
www.JudiFennell.com
to register to win one of two remaining Romantic Beach Getaway Weekends to celebrate the release of the Mer series books. The next drawing is November 30 at the Atlantis Inn in Ocean City, NJ

(
www.AtlantisInn.com
)

, and the final drawing is February 28, 2010 for the Hibiscus House in West Palm Beach, FL (
www.HibiscusHouse.com
)

.
WILD BLUE UNDER—book 2 in the Mer Series—in stores November 2009!
The underwater kingdom is his as soon as he claims his queen…
Rod Tritone has the looks and charm to snag any queen he wants for his Mer kingdom, but unfortunately, it's not up to him. As fate would have it, the one woman destined to rule with him is terrified of water…
She lives in land-locked Kansas and has no idea she's a princess…
Valerie Dumere thinks Rod is gorgeous and irresistible—but why does he keep insisting she has another side to herself that only he can show her?
Somehow, Rod has to prove to her who she really is. But when she finds out the truth, will she ever forgive him?
About the Author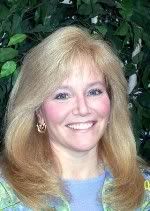 Judi Fennell is an award-winning author. Her romance novels have been finalists in Gather.com's First Chapters and First Chapters Romance contests, as well as the third American Title contest. She spends family vacations at the Jersey Shore, the setting for some of her paranormal romance series. She lives in suburban Philadelphia, PA.
Let's give Judi Fennell a HUGE thank you for coming and being a part of my blog! I seriously enjoyed reading about the Halloween Ball, didn't you?
With a HUGE thank you to Danielle at Sourcebooks, I am able to offer to you a chance to win the first two books in Judi Fennell's trilogy, In Over Her Head and Wild Blue Under. As you may or may not remember, I was able to read and review Wild Blue Under and fell head over heels for this series! I am sure you will too!
Here's the rules: Canada or USA only.
To enter answer this question: Answer Judi's Question: So who (what) are you going to be for Halloween? Myself, I am not dressing up, but my daughter is going to be a purple fairy
Good luck! and the contest ends on November 15th! Please note all winners are chosen via Random.org, I will NOT alert the winner, the winner must contact me when I announce the winner on a post here in my blog. I highly suggest following my blog OR having a google alert for your user name!
Just for today only, I have turned off comment moderation as I will not be around much today and I would love for you all to be able to interact without waiting for comment approval! Have lots of fun! This is going to be so much fun to read later!